I challenge anyone to listen to this and not be upset with how passionate Lisa the Charity Manager is.
Please donate to any of the Approved Drop Off Points ( THATS US ) or
text AIRE to 70808 to Donate £5
Thank you xx
Our new wedsite is currently under development and will be online soon. Its taken a while (6 months or so ) but so far we think its coming along nicely and its looking pretty fantastic !! More website news later ………………….
Buttercup Lane Childminders are pleased to announce that we are in this Months Childcare Professional Magazine. This product is distributed to all PACEY members –  this is a massive achievement for us and will be seen by over 30,000 childcare professionals.
Fantastic News – for the 2nd YEAR running we have been nominated for Leeds City Councils – Child Friendly Leeds Awards.
We have been nominated in the category for "Best Place in LEEDS for Children and Young People.
Its an honour and a priviledge to provide childcare for our wonderful customers and it really does humble us to think that we are really highly thought of and appreciated.
We are so PROUD.
2014 Mission Christmas was a huge success here at  "Buttercup Lane Childminders – East Ardsley"
We raised a huge £1200 worth of presents and donations. Thanks to all that contributed .
See pictures here.
Listen to Karls Interview with Radio Aires Scott Makin for this years Mission Christmas – Cash for Kids campaign 2014 .
Check out the story of our recent Super Hero Exploits on our Cash for Kids – Radio Aire page.
As we plan on supporting Cash for Kids through all of their fund raising activities we will add our stories and events to this page.
Tomorrow is SUPER HERO DAY !!
There is something very special happenning tomorrow here at luchtime and we can't wait for the excitement – We are literally bursting with joy !!
Buttercup Lane Childminders In East Ardsley are going the extra mile to help Cash for Kids – Radio Aire !
Update to follow !!!!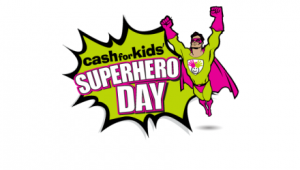 We are doing it again ! – Yes Karl will be wearing one of his many Super Hero outfits. Don't forget if you see him out and about in East Ardsley, Tingley or Morley – give him a massive Super Hero Wave  – To Infinity and Beyond ! Please support the cause and donate as much as you can – Every single penny you donate stays in OUR community area.
Calling all Superheroes!
Radio Aire Cash for Kids needs your help on Friday 2nd May We're raising funds to support disabled and disadvantaged children living in OUR local community, but to really make a difference we need your support. If your business, workplace or school would like to take part and dress as a superhero for the day – or just be a superhero by fundraising! – please register your support below for Cash for Kids Superhero Day.
What a result – One of our older Buttercup Babes was in the Yorkshire Evening Post on Monday 31st March. She was part of Sharp Lane Primary School that are demanding Pop Stars like Miley, Lady Gaga and the rest of the raunchy stars to clean up their act.
The youngsters want the stars to ditch the current trend to create provocative videos and become inspirational role models.
The school have handed out leaflets to parents to encourage them to be careful about what the children watch on television.
They have even written a song called "That's what makes a Role Model" to the tune of One Direction's "What makes you beautiful".
The children themselves agreed that the videos that these stars create make them feel uncomfortable and they are wanting things to change. "Just because you are showing your body doesn't mean you are popular and successful. If your talented then that should be enough and this is what they should be aspiring to"
Another class at Sharp Lane Primary in Middleton are raising money for Macmillan. The schools two campaigns are part of the nationwide Go-Givers project.
Well Done to all the School at Sharp Lane and our older Buttercup Babe for making a stand and to try and change how the media promote pop artists.
The school children are passionate about the projects and helped them feel empowered to make a difference when they get together whilst they are making very good use of the educational material that they are studying.
What a fantastic approach for the school to have – listening to the pupils and making lessons interesting something that will keep all the children interested in learning.
Leeds a child friendly city – a place where children are valued, supported, enjoy growing up, and look forward to a bright future –  for children, young people and families in Leeds – just tweet   @child_Leeds or use #child_Leeds.