Archive for the 'Uncategorized' Category
We recently were contacted from Pacey who asked us for permission to use our pictures and feature a little artical of one of our activities. Remember the snow …. then remember our moto " Come Rain or Shine …. We'll have a Great Time "    A little snow did not stop us. So we painted it…. Why not, the children loved it, totally new experience and Pacey thought so too.
The artical appears in the "Childcare Professional Magazine – Spring 2018″
You may seem to remember that we appeared in the magazine a couple of years ago too so this is the 2nd time that we have appeared in it !!!
This magazine has a circulation of between 90,000 and 100,000 4 times a year and its target audiance is ALL CHILDCARE PROFESSIONALS who are members of PACEY.
To see who PACEY are click here   – Pacey Stands for    Professional Association for Childcare and Early Years and we have been members since our registration.
SUPER Proud we are – we love what we do and its absolutley AMAZING that such a highly established organisation such as Pacey recognises the work, time, effort, commitment, passion that we have and want to share it with all of their members.
We are totally overwhelmed. xx
We are at it again folks ….. Radio Aire are requesting 500 faces of Leeds and West Yorkshire to help create a litle competition between the 500 people and organisations to help raise funds for Cash for Kids. This campaign lasts the whole year and will include all our usual yearly events like – Super Hero Day, Cake Making Day and not forgetting Mission Christmas.
We are asking everyone – to follow the link and donate a POUND – More if you can !…. Please click on GIFT AID but dont be anonymous- your helping children of Leeds and West Yorkshire – the children need you.
We have some amazing friends, family, parents, children, colleagues, local companies, local villagers, that we count on for our many campaigns throughout the year for Cash for Kids and this is no exception.
Please when your out save that couple of pounds that you were going to spend on that cup of Skinny Latté or Hot Chocolate with all the marshmelloes on top, drive here to Buttercup Lane Childminders, donate your couple of quid to us for Cash for Kids and we will make you that drink and you can have a piece of cake to go with it, or if you cant wait until then please use the link below to go to our funding page and donate there, dont worry its totally safe, please make sure you leave your name and leave a little message.
https://www.cashforkidsgive.co.uk/campaign/500-faces-aire/fundraisers/karl-stead/
Thank you   and dont forget to use     #Aire500Faces
xx
Wow , what an exciting way to end the Year, 2016 was a RUSH .. from start to finish. December saw lots of our normal Christmas related festivities and activities, Lotherton was brilliant this year as was Our Winter visit to Sundown it was ever so magical and ALL the children including us had our special bookings with the big man himself. Santa Clause was amazing although there are TWO very disappointed gentlemen as we asked if both Graham and Karl were getting bikes this Christmas , Graham a new Triathalon Speed Racer and Karl a motorbike to which his answer was a pretty resounding NO, more or less said that we had to try harder for nexr year…. BAH HUMBUG !!!
Mission Christmas 2016 Cash for Kids Charity was another huge success and together with our wonderful Customers, Neighbours, Friends, Family, Fellow childminders, East Ardsleyians, STAX PLC, Abraham Moons & Sons, Morrisons at Junction 41,  Adelios of Morley, Neighbours of the Meadowside Estate we collected and donated around £2100 worth of presents and £173 in cash, This is another fantastic year and we are really proud to be part of Cash for Kids as we hold this charity and the worth while cause very close to our hearts, We look after children for a living and thinking that there are children in this world yet alone Leeds and Wakefield that do not get the chance to open ONE SINGLE CHRISTMAS PRESENT in 2016 is HEART BRAKING. Have a look at the Radio Aire Cash for Kids pages for more details and check out the heart wrenching videos too.  Together we helped create a magical special christmas for 23,396  children, this is something that we can ALL be proud about.
We have lots of things planned for 2017 and we will make sure that we acheive our goals and targets, everyone learns through experience and every day will be an education that is Fun Fun Fun !
Fall Lane Bridge is Still out of action and the projected completion date is the 28th January, although there are muted rumours already that Seymour will miss this target too, so please please please be careful as the roads just seem so dangerous even more so this year, especially when its very cold as water seems to gather near the traffic lights making it very slippery (icey) when you not expecting it,
We wish everyone a very Prosperous New Year – lets make 2017 a happy one, We have families moving into new homes, more babies on the way, New jobs for some, old jobs for others, we also have nursery children moving up to year one and some of the older children will be moving up to high schools for its certainly going to be exciting 2017 for most, lets all stay safe and enjoy the year ahead.
Its time to start thinking ahead for the school holidays especially the Summer one, we have all ready had some bookings so plan your break and get your bookings in early.
Our Number plate has been transferred onto the new FUNBUS…… we are awaiting the signage for the windows.
Its been a very busy couple of months since the Summer Holiday. Today we have just completed a Training Course on "Developing Effective Training and Interaction"  A fresh approach to existing practices "Sustained Shared Thinking" .
Out with the old and in with the new, Our beloved funbus ( 1st Generation )  has very sadly become Beyond Ecomonic Repair and we have replaced it with a shiny new one ( 2nd Generation ) at this moment in time it has not got any signs on it but we will get it done , we are also awaiting documentation from DVLA for the private registration plate  swap as we know that everyone looks at the number plate for us.
Fall Lane bridge is still out of action but they are moving swiftly and it all appears to be on time. Strong word of caution though and that is that people are running the RED LIGHTS at the junction at the top and ignoring the fact that the pedestrian crossing is still in use.  The maintanance team have bridge cameras now so hopefully the quilty will soon be getting warning letters.
Its now the time of year were we focus our efforts on Radio Aires – Cash for Kids – Mission Christmas 2016 Campaign, please watch social media for updates as we are once again East Ardsleys local drop off point, Anyone wanting to donate can ring us as well and we will collect your donations from you to help support local unpriviledged children in Leeds and surrounding areas.  Any further charity information can be found at Radio Aire's website, you can see our Ambassadors page by clicking here.
December Update and photos on Mission Christmas will be posted just before christmas,   – its its too early to wish you all a Merry Christmas !
Amazing – for the 3rd year running ( thats 2014 – 2015 & now 2016 )  we have been nominated for the Child friendly Leeds Awards in the the category of "Looking after children and Young People "  We are honoured to be part of and Very Proud AMBASSADORS of Child Friendly Leeds.  Buttercup Lane Childminders – Working together to make Leeds the BEST city for children and young people.
Fantastic News – for the 2nd YEAR running we have been nominated for Leeds City Councils – Child Friendly Leeds Awards.
We have been nominated in the category for "Best Place in LEEDS for Children and Young People.
Its an honour and a priviledge to provide childcare for our wonderful customers and it really does humble us to think that we are really highly thought of and appreciated.
We are so PROUD.
Check out the story of our recent Super Hero Exploits on our Cash for Kids – Radio Aire page.
As we plan on supporting Cash for Kids through all of their fund raising activities we will add our stories and events to this page.
It's the awards tonight and we are so excited to be going after we here at Buttercup Lane Childminders got nominated of Three Awards.
Although we don't think we have been short listed we are so proud that we got nominated in the first place. Thanks to everyone that voted for us and its such a wonderful feeling of appreciation.
The awards is the very first one for Child Friendly Leeds and with the hundreds of people attending its sure going to be a special occasion.
People from all around the world have been voting since November for the four award categories and its our commitment to our business and having a real passion for Childcare that we believe people have seen just how much effort we put in and this has been rewarded by the nominations.
To get involved with CFL type Child friendly Leeds into Google.
Children are the future so get involved with them today to make differences for tomorrow that will benefit everyone's lives .
This morning Karl visited Westerton Primary school with Jemma Stevens and delivered a Child Friendly Leeds presentation in Key Stage 2 assembly.
Although we were nervous, we delivered a confident, positive, educational, informative speech that was very thought provoking. All the children and staff were both
appreciative and impressed.
We must also mention that Sophie and Mollie delivered their sections clearly and precise and they were just terrific.
Due to our research and material that we were delivering we were sure to have a very captive audience and it must be said that the children paid attention throughout the presentation, they listened and interacted with a great willingness, it showed that they had an interest as the subject matter meant something to them all.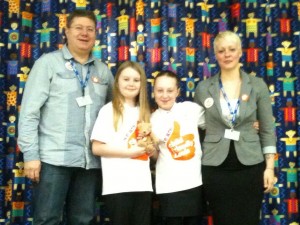 Our presentation was met with such positivity that Westerton Primary have added the presentation to their website, follow this link to see it. If you want to get involved in Child Friendly Leeds use the detail on the final page of the presentation or see the LINKS on the right or get intouch with us here at Buttercup Lane and we will gladly point you in the right direction.
Buttercup Lane Childminders would like to thank the entire school at Westerton, Mrs Makin and her team work wonders and all the pupils are a credit to themselves, their parents and the community.