Archive for the 'Communication' Category
After months and months of endless diversions and car weaving in and out, reckless people going through red lights, setting off 10 minutes early for every journey – ( just like everyone else ) fuel bills increasing, other hazzardous driving at LONG LAST Its Open…… FALL LANE BRIDGE opened today and we were one of the first few to drive over it. Everyone local is over joyed with the results as it looks really impressive and most importantly SAFE.  We as one of the first few residents on the Meadowside Estate have waited 10 years for this …… Bloor homes promised us that it would be reworked within 3 months of us moving in ( but thats a different conversation.
Even though the bridge is open and it will save on time and money please remain careful as some drivers will forget and STILL DRIVE THROUGH RED LIGHTS, the signs in Thorpe and down Fall Lane saying "Road Closed at Bridge" are still in place and we think they will be removed at some point during the next few weeks.
Fall Land Bridge is NOW CLOSED until Christmas – Please will all parents use the alternative route to get to us, if you get stuck please give us a call on the numbers that you have.  Please note that we will probably we walking TO SCHOOL each day, please be prepared. Thanks all xxx
We have a new company setup now for  Fidelity Childcare Vouchers – Working parents can save £933 as individuals, If both parents join the childcare voucher scheme potential savings of up to £1866 can be made! Please see the link to them on the right hand side for more details !
What a night the presentation evening was – it was superb.
We were nominated for TWO AWARDS and what about these categories "Best Place in Leeds for Children and Young People Award" and "Looking after Children and Young People Award" . We are SO PROUD and chuffed to bits that people nominated US for these categories. Words are simply not enough of how humbled we feel that Buttercup Lane Childminders are thought of in such high praise.
The whole performance was managed from start to finish by the children of Leeds that are part of CFL. It was amazing. Everything was thought of, The venue, the Red Carpet, The lighting, the Sound, the Acts that appeared – it was all controlled and delivered with such professionalism it was simply an evening of pride and passion for delivering everything that Child Friendly Leeds is all about.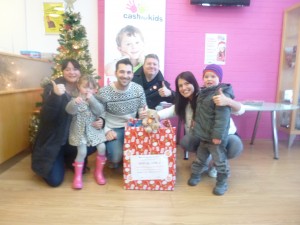 We have been to donate all the presents this morning. We met Rich and Naomi from the Radio Aire breakfast show. We took with us all the beautiful presents that we and our wonderful customers have donated to their Mission Christmas Cash for Kids Appeal.
A massive Thank you to all our Parents that contributed and your presents will make a childrens Christmas all that more special.
September update & Summer Holidays
Wow – That was the month that was – as they say .
We have had an amazing 6 weeks and we have been and seen lots of new and exciting things as well as some old favourites. All pictures are loaded onto your private viewing areas for you to check over. During the 6 weeks we have been to ( in no particular order ) Formby Beach, Liverpool, Scarborough, Mr Copleys Farm, Temple Newsam, Yorkshire Wildlife Park, Whitley Bay, Stockeld Park Summer Adventure Land, Roundhay Park, Yorkshire Sculpture Park, Brimham Rocks, Knaresborough, Huddersfield, Switherns Farm, Pugneys, Wetherby, Manchester, Yorkshire Railway Museum, The Angel of the North, Newcastle & Middlesborough, Pontefract Park, Rothwell Park, Castleford, MIddlestown, Halifax as well as taking in 3 Leeds Breeze festivals These are just some of the places we have been to you should see the list of activites that we have done these include Walking, Climbing, Swimming, Diving, Dancing, Crabbing, Fishing, Juggling, Biking, Digging, Painting to name but a few. All in all we have had a terrific time over the last month or so.
Buttercup Babies – New Starters
Well we have been very busy and we have some new starters here at Buttercup Lane Childminders, welcome Morgan and Summer alongside Jake, Alex, Logan. We have also seen some big leaps forward with some of our older children, Some are starting nursery – some are starting junior school and some have taken the giant leap and started High School …. Where does the time go. We wish all the very best of luck to all our Buttercup Babies no matter how big or small.
At Buttercup Lane Childminders – we have another 3 new children. What a week it has been. We cannot wait until we are firing on all cylinders – we have so many fun and exciting things planned , so we welcome Aiden, Jake and Abi to our extended family.
Buttercup Lane Childminders are commited to delivering exception child care to each and every child with in our care. We focus on each childs interests and we introduce new activities for all, keeping learning fresh and most importantly fun. We construct the "scaffolding" and we let the children use their own ideas to build their knowledge and experience everything that they need as individuals to further their development.
This week we have been on two training courses. These were very interesting and we have learnt a great deal to support our child care.
The Characteristics of Effective Learning
Autism & Aspergers Awareness
24th to the 30th June is Child Safety week, Here at Buttercup Lane we have the ideas booklet and we will be making this week a complete fun filled weeek we have lots of activities planned already and we will be having a totally amazing time.
We will be having a SUPER HERO DAY were we all need to be dressed as your favourite action heros – so getting planning now.
For more details check out Child Safety Week

Another new customer at Childminders in East Ardsley welcomes Lilymae to our extended family.
Totally flexible childcare work for us here at Buttercup Lane Childminders.