Both Lia and Karl are commited to bringing everyone together to make the whole of Leeds a Child Friendly City.
We believe as do Leeds City Council that we need to act now to change the culture of the great city where we live and thats one of the reasons why we got involved with Child Friendly Leeds.
We need to make Leeds a place where children are valued, supported, enjoy growing up, and look forward to a bright future. What a fantastic way to keep our city at the forefront of youth culture by actually listenning to the children of today and delivering a city that is both exciting and vibrant whilst maintaining safety. Leeds is the place to be and by introducing the youth elements into todays society its make for a very wonderful place to live not only for the youth to enjoy but for each and every one of us.
CFL's commitment to being the best city for children and young people is founded on the global movement of Child Friendly Cities initiated by UNICEF, and driven by the voices of children and young people here in Leeds.
Leeds City Council listened to thousands of young people to find out what's important  to young people  and children in Leeds, and collectively they came up with a list of Wishes.
These are the top 12 'wishes' they feel will make Leeds a child friendly city.
In a child friendly Leeds:1. Children and young people can make safe journeys and easily travel around the city.2. Children and young people find the city centre welcoming and safe, with friendly places to go, have fun and play.
3. There are places and spaces to play and things to do, in all areas and open to all.
4. Children and young people can easily find out what they want to know, when they want it and how they want it.
5. Children, young people and adults have a good understanding of children's rights, according to the United Nations Convention on the Rights of the Child.
6. Children and young people are treated fairly and feel respected.
7. Children and young people have the support and information they need to make healthy lifestyle choices.
8. All our learning places identify and address the barriers that prevent children and young people from engaging in and enjoying learning.
9. There are a greater number of better quality jobs, work experience opportunities and good quality careers advice for all.
10. All children and young people have their basic rights met.
11. Children and young people express their views, feel heard and are actively involved in decisions that affect their lives — this is what we mean by 'participation'.
12. Places and spaces where children and young people spend time and play are free of litter and dog fouling.
You too  can get involved with Leeds' ambition to be a child friendly city!
We actively encourage all our children in our care to speak to us openly and by doing so we are already listenning to our children and changing our activities in relation to the childrens decisions, expressions  – this makes a huge difference and our interaction and participation levels are instantly measured by the grin factor – or in other words because we listen to the children and introduce new fresh exciting ideas – all children in our care are happy and enjoy everything that we do here are Buttercup Lane Childminders.
The age old sign of being happy is the Thumbs up! and Child Friendly Leeds logo is bright and exciting orange Thumbs up – instantly reconisable and you will notice this everywhere in Leeds and surrounding areas, no matter how small it is when you see the Child Friendly Leeds logo you know that where every you are its had the input of Leeds Youth and as a result its now a Child Friendly Location or its a supporter for everything that its Child Friendly Leeds.
We are Leeds and we are proud of it – we wear the Child Friendly Leeds badge with pride and it shows.
On the 30th January of this year we are very proud and honured to of being nominated for 2 of the Child Friendly Leeds Awards.
The night was hosted at the City Varieties and what a night the presentation evening was – it was superb.
We were nominated in categories "Best Place in Leeds for Children and Young People Award" and "Looking after Children and Young People Award" . We are chuffed to bits that people nominated Buttercup Lane Childminders ( both Karl and Lia )  for these awards. Words are simply not enough of how humbled we feel that Buttercup Lane Childminders are thought of in such high praise.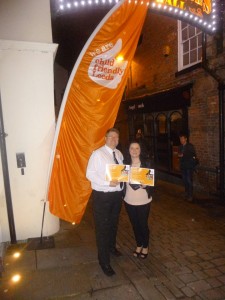 We are so Proud about our nominations at the CFL awards
The whole performance was managed from start to finish by the children of Leeds that are part of CFL. It was amazing. Everything was thought of, The venue, the Red Carpet, The lighting, the Sound, the Acts that appeared – it was all controlled and delivered with such professionalism it was simply an evening of pride and passion for delivering everything that Child Friendly Leeds is all about.
We did not win the awards but we feel as though we did – it just goes to show that with hard work, commitment and passion for children that your rewarded with gestures of kindness that are truely breathtaking – a very heartfelt thank you to everyone that voted for us and most importantly believes in everything that both of us here at Buttercup Lane Childmninders are doing to deliver excellent childcare.